Continued: things to do     
* Do have a positive, prayerful and optimistic outlook that in time things will get better for the parent/patient.
* Do observe the instructions posted on door when a patient is under enteric precautions, ( isolation).  For visitors, gowns, gloves, and mask are normally required.
 * Do wash your hands upon entering and leaving a hospital room.
                  Sleep?                               
            "What's that?"
 * Do understand that insomnia, while being in the hospital, is for many a common experience.   The lighting, care routine, sounds, mattress, and pillow, all so different, tend to inhibit sound sleep.                                                                     * Do remember that a hospital is an acute medical treatment center; therefore, sleep though important, is not the first priority. It is secondary to the doctors, nurses and hospital staff meeting the physical, emotional, and spiritual needs of the patient.
  * Do take notice that NPO sign means the patient can have nothing by mouth, a Latin term "nil per os."  The only exception is patient can have small sips of water when taking medications.  Take note!! Violation of the NPO fasting rule prior to a test or scheduled surgery can result in a postponement of at least 8 hours.
 * Do be grateful for the caregivers. A simple "thank you" is deserved and is much appreciated.
 * Do carry breath mints or sprays.  You are the last one to know when you have bad breath. Your spouse has gotten used to it, (or built-up a tolerance for it), and your best friends lack the courage to tell you.
 * Do Visit the parent/patient in Pre.Op. before he/she is taken to the operating room.  Arrive at least an hour ahead of the scheduled surgery, before sleep is induced.  This time of anticipation and waiting can be a particularly lonely and stressful time for the patient/parent.
 * Do expect that your visit will be interrupted by a Doctor or Nurse.  They are always under the pressure of time constraints.
 * Do use the hand hygiene dispensers located throughout the hospital.  Combatting staph or other infectious diseases is a hospital's constant goal for which good hygiene is essential           
          Nurse Cratchet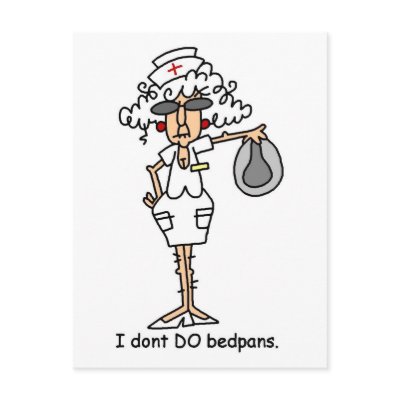 * Do Understand that no parent/patient will be comfortable in your presence while he/she is uncomfortable on a bedpan.  QUICKLY excuse yourself and return later.  "Bedpan therapy" is one of life's most unforgettable experiences and warrants  utmost privacy.
 * Do Avoid Saying,  "I completely understand what you are going through" or "I know exactly how you feel."   To use either of those expressions is a presumption of omniscience.  No matter how similar your experience was to theirs, they were not the same.  People differ markedly in their response to medications, pain tolerance, and sleeping environments.   It is better to say "I can somewhat relate to what you're going through."   Then don't talk about your hospital experience.
 * Do stand or sit where the parent/patient can best hear and see you.
 * Do find a chair should you visit for more than a few minutes the parent/patient will not be comfortable with you standing.           
 * Do gently probe the parent/patient in order to discover needs that are not obvious, using questions such as "How are the children doing?" "What's on your heart that I can pray about?"  "Is there anything I can do for you?" The response "I'm doing fine" tells you nothing about how a person is really doing. 
 * Do strive to build a"bridge of confidence" with the patient, over which their feelings and concerns can be freely and comfortably  expressed.
    Hospital Protocol Continued
SOME DON'TS WHILE IN THE HOSPITAL VISITING A PARENT/PATIENT
Walking contagion
 ~Don't visit the hospital when you are ill. If you must, face mask are available at the nursing station.  Prone to fainting?, wait until the issue is resolved.  Fainting by visitors in the hospital is more common than you would think.  Smelling salts and a nurse are near at hand.
 ~Don't be periphrastic:   Using many words when a few would do.  Listening requires concentration and a measured response, which can easily tire a patient; therefore, use an economy of words.
 "When words are scarce, they're seldom spent in vain."--William Shakespeare
 ~Speechless comfort:  The Old Testament prophet Job's three friends came a distance to commiserate with him in his unimaginable pain and loss.  They sat empathizing with him in silence for seven days, and it was only after they began to speak that they became what he described as "miserable comforters."   At the bedside of the sufferer be a person of few, but choice, words "that minister grace to the hearer."   There are times when your presence alone is enough.
 "Silence, when nothing need be said, is the eloquence of discretion"-- Bovee
 Perfume Shower
 ~Don't saturate yourself with perfume (O-Bot above=Musk Plant) or cologne before making a hospital visit.   Pungent aromas can easily make the patient nauseous.  You don't want to smell like the cartoon skunk character Pepe-Le-Pew.
 ~No Flowers permitted in the Intensive Care Units
 They are forbidden by the Department Of Health.  Get-well cards, small pictures, and  memorabilia are welcomed.
 ~Don't shake hands with the patient or touch the bed.
 ~Don't enter a closed door or go behind a pulled curtain without permission from the nurse or patient, lest you embarrass the patient and yourself.
 ~Don't talk about your hospital experiences, no matter how interesting you think they may be.     
 ~Don't sit on the bed,even when invited to do so.  Ask for a chair. 
 ~Don't change the head or knee position of the bed. There could be a medical reason for the current position; that task when needed is a caregiver's function.  Case study:  Years ago a friend of mine's wife had just delivered their first child.  While visiting the wife at the hospital, she asked the husband to change her head position.  Eager to please, he quickly grabbed the crank handle (this story happened Loooooong time ago) and proceeded to unwittingly wind up the I.V. line on the crank, thereby pulling the I.V. from her arm.   Oops!! I believe he also stepped on the urine bag in the process.   His eagerness to assist his wife indelibly defined an already memorable event in their lives.  Need I say more?
 ~Don't bring "comfort food" to the parent/patient without permission.
 No camping out
 ~Don't overstay;  watch for signs of drowsiness and unresponsiveness.  
   Take note !!    It's better to leave a patient wishing you had stayed longer than wishing you had left sooner.   Should the patient be venting his/her feelings and concerns, extend your visit.
 ~Don't talk too fast; take a breath and slow down your speech pattern.
 ~Don't give the appearance of being in a hurry by frequently looking at your watch or telling the parent/patient how busy you are.   Make the patient the focus of your time spent at the bedside.
 ~Don't take on the role of the nurse; you are there to encourage, not to give "hands-on-care" to the patient.
 ~Don't, (pleeeeeease) except in an emergency, feel compelled to be a messenger between the patient and the nursing station,  (A definite annoyance to healthcare givers).   Show the parent/patient how to use the call light button on the remote control.
 ~Don't attempt to diagnose; leave that to the doctors.  You may know only enough about medicine to make you dangerous.  "The opinion best appreciated is the one not expressed."-- Chaplain LLoyd Rinks
 ~Don't betray a doctor's confidence without his or her permission to reveal the information.
 ~Don't forget the important post-operative meeting with the surgeon.  Take note!!  If you are not a member or relative of the family, you must be introduced to the doctor by next of kin or a family member in order to be privy to the confidential information he shares; otherwise, he will rightfully ignore you.   Listen closely to the surgeon's carefully worded report and feel free to ask any questions that may help to clarify what he says.  Case study:   I was with the family in the waiting room when the surgeon met them to give his oral report of the procedure. (colon surgery).   The surgery had gone well.   The patient had tolerated the anesthetic; the tumor was cancerous, "But we THINK we got it all, and the prognosis looks good," said the surgeon.   The anxious spouse and family members did not either hear or accept the word THINK, which is a doctor's best educated guess.   Several weeks after the surgery the patient's recovery was not on track and reluctantly, I had to remind the family of exactly what the surgeon had said, "We THINK we got it all."   Unfortunately, that was not the case; the cancer had spread beyond the margins of the surgery to secondary sites and the patient died within a few months.   The family's anxiety had clouded and hindered their ability to accept and deal with any outcome, other than full recovery.
 ~Do understand that you will not be able to visit a Parent/patient while they are in the recovery room.
The Librarian
 ~Don't bring a library of books for the parent/patient to read.   Constant interruptions, medications, inability to concentrate, discomfort, or malaise can preclude much reading.
 ~Don't pump the patient for information he/she is reticent to share; let him/her tell you only what he/she wants you to know.
 With your questions, comments? E-mail me at lloydrinks@yahoo.com